Triple R Ranch Engagement Portraits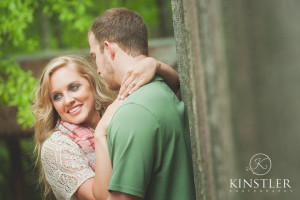 Ray was the winner of the free portrait session that I gave away earlier this year. As it just so happened, he got engaged to Hope not too long after that, so it turned into an engagement portrait session! Congratulations guys – I couldn't be happier for the two of you!
We took these portraits at the Triple R Ranch in Chesapeake, VA. The Ranch is a special place that's near and dear to both our hearts. For me, it's where my parents met (my Dad worked out there for a long time when he was a teenager/young adult), where I went to camp as a kid, and where I worked on the Junior and Senior staff over a period of 5 or 6 summers. For Hope, her connection to the Ranch is a little more personal because her Aunt is the camp director, not to mention that she's spent plenty of time out there on staff with the campers and horses, too.
But the coolest part of getting to work with Hope & Ray for their engagement portraits is that I've also photographed both of Hope's cousins' weddings. Missy was one of the very first weddings I ever did, back in 2005! David, Missy's brother, was married in 2008 – and I also got to take his engagement portraits at the Ranch, too. So this session was a lot of fun for me, because I got to spend it with friends – the oldest one being The Ranch.
---
---
If you enjoyed these Triple R Ranch engagement portraits, please leave a comment or share this post on social media!
SEO: Engagement Portraits, Triple R Ranch