Evan & Stacey's Sandbridge Beach Wedding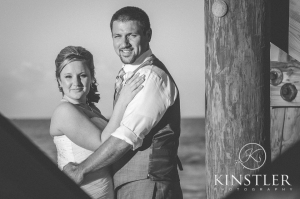 Evan & Stacey were married on October 4, 2014 on the beach in Sandbridge! It was a gorgeous day for a beach wedding – and October is quickly becoming my most favorite month for outdoor weddings. The air is crisp and the afternoon light seems more golden than other times of the year. Their wedding was no exception and it was everything you could hope for when planning a beach wedding in Sandbridge.
Stacey wins the award for "Most Prepared Bride" this year, hands down. Sorry ladies, but Stacey was acutely aware of all the little details throughout her day like no other bride I've seen before. The best part though, and what wins her the award, was that she just had a blast at her wedding. She didn't seem stressed in the least bit. Thankfully most of the brides I've worked with in the past weren't majorly stressed out, but the burden of keeping the wedding plans in place is more than enough to keep a bride (and some grooms) on edge. But not Stacey – she was just as cheerful and happy at the beginning of the day as she was leaving on her pimped-out beach cruiser at the end of the day.
I also had the distinct honor of photographing Evan's sister's engagement portraits and wedding last year (Kolby & Jonathan)! It's so fun to see the same family members at another wedding, and the different styles from each bride truly showed through in their own unique way. Evan & Stacey's Sandbridge Beach Wedding was quite different than Kolby & Jonathan's chapel and oceanfront wedding at the Hilton. But nonetheless, the same family traditions were upheld, including Evan's dad's "Golden Ticket" for Stacey to welcome her to the family.
I had a great time working with Evan and Stacey on their wedding day and I hope you enjoy these few select pictures from their big day! If you were at the wedding then let them know what you think of their pictures in the comments below!
---
---
If you enjoyed Evan & Stacey's Sandbridge Beach wedding, please leave a comment or share this post on social media!
SEO: Evan & Stacey's Sandbridge Beach Wedding