Paul & Shanessa's Wedding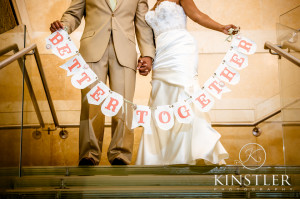 Back in February, I blogged about Paul & Shanessa's awesome engagement portraits that we captured at Town Center in Virginia Beach. Well, I had the pleasure of working with them again for their wedding on July 26th, 2014 – which also happens to be my wedding anniversary. But don't worry, my wife was perfectly OK with me having booked a wedding on our anniversary (I guess it's that kind of understanding that comes with being married for 11 years).
Much like my wedding, they had an intimate ceremony and reception, complete with great music from DJ Taylor Haycox. They even played a few games, the first of which caused me to lose my belt! It was a scavenger hunt where multiple players had to gather items from around the room. They would start in their chairs, the DJ would announce the item, and they had to get up to find it and then return to their seat – if it wasn't already missing. The last person who didn't have a seat was knocked out of the round until only two players remained. One of the items he called for was a man's belt, and mine got taken! The last item called was a piece of toilet paper, so one guy ran out of the room to get some from the bathroom, while the other gentleman just took some tissue from a lady's purse. Well, the crowd didn't agree that the tissue paper was good enough, so the guy who ran to the bathroom ended up winning the prize: a $100 gift card to Ruth's Chris Steakhouse in Virginia Beach!
Another great part of this wedding was watching Shanessa's daughter dance away the day! She requested song after song from the DJ and was leading the way with all kinds of great dancing. It was really fun to watch her gettin' her groove on the dance floor. I had a great time working with Paul and Shanessa on their our wedding day – LOL! They're a beautiful couple with a beautiful family and I wish them many years of happiness and wedded bliss together!
Congratulations!
---
Officiant:
Susan Turner
Event Planner/Coordinator:
The Westin
& Zsuanna Rainey (friend)
Florist:
Daevids of Norfolk
Catering:
The Westin Hotel, Virginia Beach
Cake:
Patti Cakes
DJ/Band:
Taylor Haycox
---