I'm excited for my second annual workshop coming on April 6, 2013! You don't want to miss out on this information-packed, energetic, fun-filled day where you'll get to learn how to create unique and beautiful photographs! I'm thrilled to be hosting the workshop at Regent University again, with all of its beautiful buildings and outdoor settings like the water fountain and Robertson Hall. If the weather doesn't cooperate, then I even have special permission to work on location in the Regent Library, with its columns, beautiful window light, and double-grand staircases!
This is also the first time I've seen a workshop where two photographers can signup together and save $100 each! I'm doing this to promote a sense of community and friendship amongst photographers who share a similar passion for working with one another, and what better way than to learn alongside each other at the same workshop. I highly encourage you to signup with a friend and watch how your passions will fuse and merge.
This year we'll be working with bridal models to help photographers enhance their wedding portfolios while learning about lighting & creative compositions. Photographers should have a good understanding of their camera equipment and the basics of photography (like apertures, shutter speeds, ISO, and white balance), but we'll discuss some of this if you're still trying to comprehend it all, so all skill levels are welcome to attend.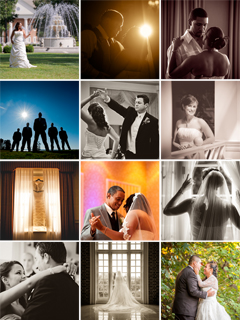 You should have a digital SLR camera and bring two lenses if you have them – a wide-angle (within the 14-24mm range) and a telephoto (within the 70-200mm range). If you don't have one or both of these lenses then I highly recommend renting one for the workshop from sites like www.borrowlenses.com, www.lensrentals.com, or www.lensprotogo.com.
The day will start with a classroom discussion for a few hours, where you'll learn concepts in lighting, posing, and composition. After lunch we'll split into two groups and go on location with the bridal models. I'll work closely with the first group of photographers to teach the concepts we learned in class, while the other group of photographers will have the opportunity to work on their own with the models. After I'm done with the first group, I'll work closely with the second group to teach them the concepts we learned in class. This allows for you to ask your own questions for the benefit of the group and get to see the concepts in action.
I hope to see you at the workshop this year. Please call or email me if you have any questions about the workshop.
See you soon!
~ Stephen Kinstler