Lesner Inn Wedding – Stephanie & Leo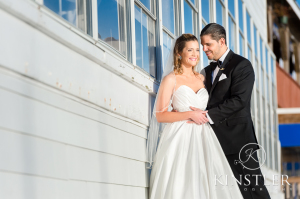 This was such a great wedding for me because Stephanie & Leo were such a fun couple to work with. I first met with Leo earlier in the year because Stephanie was deployed and he was stuck with had the great responsibility of meeting with vendors and planning most of the events for their big day. He told me that once Stephanie would be back from deployment, he would also be deployed upon her return, so they would not have seen each other for nearly a year due to overlapping deployments. But they made the most of it and together had the wedding planned in no time at all. Then I met with Stephanie after she got back and she's just the sweetest thang. Together they make a really sweet couple with a love for life that truly shows in their photographs.
I captured so many expressions from them, and it wasn't hard to capture pure emotion during the wedding. Stephanie was especially excited, so much so that when we did their first look on the pier outside of the Lesner Inn, she was walking up behind him and laughing so hard that she snorted really loud. I think that was the first time that I ever had a bride snort on her wedding day! Too cute! You can see their faces in the pictures below where they're both grinning from ear to ear.
Stephanie & Leo danced the night away to the great sound of their live band, "Cheap Thrills". These guys sounded great and they kept the party going all night. I had a blast capturing all the guests and the fun that they were having on the dance floor. I think everyone had a great time and I know it's a reflection of the love and joy that Stephanie & Leo have for each other and those around them.
Congratulations guys and I wish you many years of happy marriage!
---
Officiant:
Jason Ulven
Event Planner/Coordinator:
Katy Bland
Florist:
Navy Exchange
Catering:
Lesner Inn
Cake:
Navy Commissary
Band:
Cheap Thrills
Limo:
Five Star Limo
---
---
If you enjoyed Stephanie & Leo's Lesner Inn wedding, please leave a comment or share this post on social media!
SEO: Stephanie & Leo's Lesner Inn Wedding