Beach Wedding at Waterman's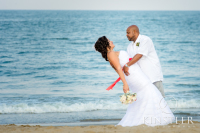 Christine & Rudy were married on August 16, 2014 on the beach at the Virginia Beach Oceanfront, right at the very end of the boardwalk. She was a stunning bride and he, the handsome groom! Since they had to get ready at the Hilton Garden Inn located in Town Center, they were going to have to ride together to the ceremony site, which meant that they would be seeing each other beforehand. So they decided to do a first look, where they get to spend a few minutes with just each other to share in that special moment alone (but of course it means I get to capture it with my camera). Afterwards we took all the family portraits outside the hotel to help with the timing of the rest of the day, too.
The ceremony was beautiful with both of Rudy's oldest children reciting speeches and poems to commemorate the event. Christine & Rudy met by happenstance at a Chik-Fil-A one day when their boys were playing together. They hit it off and never looked back! They talked about this and other beginning moments of their relationship during the ceremony, and you could just see the joy on their faces as they began their lives together.
Their reception was held in The Attic at Waterman's, the space reserved upstairs for special events. The room has beautiful views overlooking the oceanfront and the intimate atmosphere really helps to bring the party to life. Plus, the big mirror near the dance floor will give any photographer a run for their money! I had a great time working with Christine & Rudy and I hope you enjoy viewing some of my favorite images from their big day!
---
---
SEO Label:
Wedding at Waterman's