MOCA Wedding Photography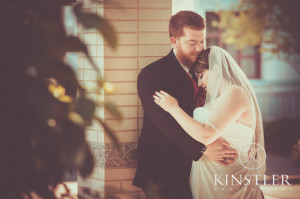 Meet Travis – he's an easy-going kinda guy so I knew that whatever I suggested for pictures that he would be cool with the idea, be it a particular pose or style. He's a pretty quiet guy with a good sense of humor, too. Just look at the pose he created with his groomsmen when I was in between setting up the different groups – LOL! Heck, his friends even trashed his Chevy Camaro and when he caught them, he just said, "I need to get something out of my car", like it was nothing for him to see his car marked up with white glass marker. I know he hated it, but he just took it in stride.
As for Elyse, well she has a Masters of Fine Arts degree, and from what I know about it she specializes in making wigs – you know, the kinds you see in blockbuster films like Lord of the Rings?! Actually, I don't pretend to know much about what she does, I just know that she has a friggin' Masters degree in it – thesis and all! So when I learned this about her, I realized why she decided to have her wedding at an art museum like the Virginia Museum of Contemporary Art (MOCA) in Virginia Beach. Art is everywhere and this venue is amazing when it comes to taking stunning wedding photographs. Like Travis, Elyse also trusted me with the ideas I had for her pictures. I found myself channeling my "inner George Hurrell", as I explained to my wife, Beth, in post-production. There are quite a few hollywood-esque portraits that I took of Elyse that mimic the classic butterfly lighting pattern (glamour) that George Hurrell was known to use. See if you can spot them below (click here for a reference to his work).
They were married on May 11, 2014 at the Virginia MOCA in Virginia Beach, VA. I had a great time capturing these moments for Elyse & Travis and I hope you enjoy these pictures as much as I enjoyed creating them! I knew I would have fun working with this wonderful couple, and the results do not disappoint!
---
Officiant:
Pastor Ronnie Bunch
Catering:
Create Cuisine VA – Donis Anders
DJ:
Gary Thon
SEO Label:
MOCA Wedding Photography
---