Norfolk Botanical Garden Wedding – Brianna & Ricky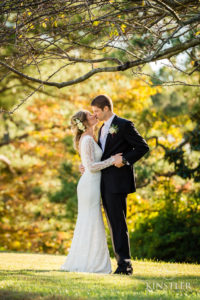 I first met Brianna in 2005 as I was starting my photography business! You could even say she was my first customer, other than family and friends. Like many new photographers, I set out to learn as much as I could about portrait and wedding photography and I needed lots of practice with some willing subjects. So I put up a small portfolio on a modeling website to see if anyone needed some TFP work (time for prints). Brianna's mom, Peggy, found me online and asked if she could bring her 14 year old daughter to take some pictures with me. I was beyond thrilled that I got to practice with someone, even if I wasn't getting paid for it. We stayed in touch after that, becoming friends on social media, back when MySpace was still cool. I watched her grow up, graduate high school and college, always bringing joy and love to those around her. So when she asked me to photograph her wedding, it felt like things had come full circle for us. I was so thrilled that we could stay in touch over the years and that my photography skills had developed from budding photographer to artistic storytelling.
We started the day photographing Brianna and her bridesmaids at the hotel while they were finishing up their hair and makeup. My second photographer, Chelsea of Tidewater & Tulle and the Aisle Society, captured the intricate details for me while I got to work capturing the moments in between the moments with Brianna, and later at the gardens with Ricky and his groomsmen.
Once everyone was dressed and ready at the gardens, we did a First Look with Brianna & Ricky in the Rose Garden. She was absolutely stunning in her wedding gown as Ricky got to see her for the first time! They just enjoyed each other's company and you could see their nerves just melt away while they got to hang out with each other to take some gorgous pictures before the wedding began. I'm so glad that they took the time to do that because we got some great portraits that otherwise might not have been possible if we'd only relied on the time after the ceremony.
Brianna's wedding was a fairytale come true, set in the gorgeous Renaissance Garden at Norfolk Botanical Garden in Norfolk, VA on a beautiful October day! She had a live painter, Lauren Elyse, working at the ceremony to paint the scene on canvas, truly a unique experience. The guests all looked amazing as they waited with bated breath to see Brianna and her wedding party enter the ceremony. Their one-year old son, Ace, was both the ringbearer and Co-Best Man of the wedding, and he stole the show as he came down the aisle in his little red RadioFlyer Wagon! It was so cute, and he did such a good job! Brianna was stunning as she came down the aisle with her father. You could see the pride and joy on his face, and her mother's face, as they gave her away.
The ceremony was short and sweet, and afterwards we took the formal portraits against the backdrop of the water fountain in the Renaissance Garden, then headed over to the Statuary Vista Garden for the rest of the pictures. Once we finished up, we joined the guests back at the Rose Garden Hall to start the reception and party into the night!
The reception venue looked amazing, designed by the ever-so-talented Lindsay Hocker! They had a sweets table where you could create your own bag of candy, an open bar, and even flip flops at the DJ table for anyone who wanted to kick off their heels and dance! The table decor was amazing, too, all carefully placed to show just how much time and attention to detail went into giving Brianna & Ricky the best possible experience for their wedding. The key focal point of the whole room were the coloful, victorian umbrellas that were hanging from the ceiling, something that Lindsay designed especially for this wedding because the color scheme matched perfectly with their wedding colors.
The party was awesome and DJ Rodney brought the house down with his awesome DJ skills! The guests partied hard and you could tell everyone had a great time. The night ended with a grand exit, with the guests tossing green leaves as the bride & groom made their way to the Rolls Royce waiting to carry them away.
Thank you for letting me be a part of your big day and I'm so greatful that we met back in 2005. I'm excited to see your family grow and the many exciting adventures to come! Congratulations Brianna & Ricky and I wish you all the best for years to come!
Vendor List
---
These pictures will be uploaded to the Kinstler Photography Facebook page soon.
Please refrain from screen captures because it causes poor image quality, which reflects bad on the hard work put into making these images.
These pictures will be uploaded to the Kinstler Photography Facebook page soon.
Please refrain from screen captures because it causes poor image quality, which reflects bad on the hard work put into making these images.
---
If you enjoyed Brianna & Ricky's Norfolk Botanical Garden Wedding pictures, please leave a comment below or share this post on social media!
SEO: Norfolk Botanical Garden Wedding