Sheraton Oceanfront Wedding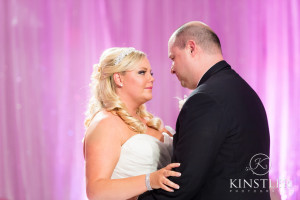 Mark & Liz had the top-of-the-line wedding vendors working at the top of their game at this Sheraton Oceanfront wedding! Barbara Anderson and her team from Style Events designed and coordinated this wedding from the ground up, bringing in the best lighting from Stage Right Lighting, amazing décor from Big Top Entertainment, and gorgeous flower arrangements by Norfolk Wholesale Floral. Marcus from Astro DJ did a great job of keeping everyone dancing through the night, and they even had Frank Cubillo of Frank sings Frank, the entertainer who has an excellent repertoire of Frank Sinatra songs. Everything came together beautifully for Mark & Liz, who were truly deserving of such a romantic wedding at the Sheraton Oceanfront.
One of the special moments in the day was when they did their gift exchange. Rather than giving their gifts away from each other, they decided to do it themselves, all the while keeping to the tradition of not seeing each other before the ceremony. By hiding around a corner with a drape between them, they were able to exchange their gifts and tell each other exactly what was on their hearts and minds. It was a sweet moment in the day, and I would encourage more couples to arrange a similar 'first photo' for their wedding day.
You can tell from their wedding photos below that Mark & Liz have formed a very strong bond as a couple, which speaks to the love they show, not only to each other, but also to their children and everyone around them. Their friends and family reflected the same love & joy throughout the entire wedding day. It truly was a beautiful wedding and I'm so happy that I got to experience it with them!
Congratulations Mark & Liz – thank you for letting me be a part of your Sheraton Oceanfront Wedding!
Vendor List
---
---
If you enjoyed Mark & Liz's Sheraton Oceanfront Wedding pictures, please leave a comment below or share this post on social media!
SEO: Sheraton Oceanfront Wedding – Mark & Liz