Yacht Club at Marina Shores – Leah & Elton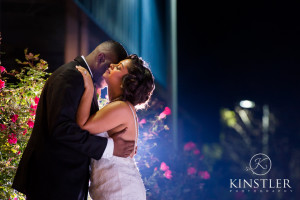 I first met Leah several years ago when her music group, "Young, Fly & Dangerous" hired me to take the cover pictures for their new album. We captured some great pictures during that session and Leah really surprised me with her sense of posing and fashion. She was no less stunning on her wedding day, too. She and her bridesmaids started the day by getting ready in their onesie super-hero pajamas – by far the best 'getting ready' atmosphere one could hope for. And when she put on her dress, she looked absolutely gorgeous! Leah's mother was so proud of her, she kept bragging how beautiful and elegant Leah was in front of the camera. It's true – Leah is a natural in front of the camera.
Elton patiently waited for the wedding to begin by just hanging out in the front of the Yacht Club with his guys. He was calm, cool, and collected all afternoon. It was my pleasure to capture the look of awe and admiration as he watched Leah come down the aisle with her brother. The whole atmosphere changed when Leah & Elton finally came together for the ceremony. Surrounded by their family and closest friends, Leah and Elton exchanged their vows and rings, then partied through the night with their guests. The toasts were sincere with many laughs and a few tears. I know everyone had a great time with Leah & Elton and I'm so glad I got to capture these precious memories for them.
Congratulations Leah & Elton – thank you for letting me be a part of your wedding at the Yacht Club at Marina Shores!
---
---
If you enjoyed Leah & Elton's wedding pictures, please leave a comment below or share this post on social media!
SEO: Yacht Club at Marina Shores – Leah & Elton