Lesner Inn Wedding – Lauren & Peter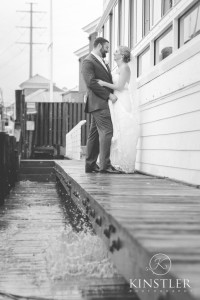 Lauren & Peter were married in the chapel at Fort Story in Virginia Beach. It was a traditional Catholic ceremony, complete with readings from their guests, communion, and the exchange of vows & rings. Oh, and a very humid sanctuary. The chapel didn't have the A/C going, so it got rather uncomfortable at the end of the ceremony. But thankfully no one passed out and everybody made it through. The ironic thing was that outside, it was rather chilly and very windy, with overcast skies and the threat of rain. But that didn't stop the happy couple from taking a few pictures outside the church and on the lower deck outside of the Lesner Inn. In fact, because the water was so choppy I witnessed a rather interesting effect where the water would jump through the slats in the deck. I knew that if I could time it right, I could take a picture with the water jumping up in front of Lauren & Peter at just the right time. I'm rather pleased with the results, and I even managed to keep my camera from getting soaked. Win-Win!
The reception was upstairs in the Lesner Hall, where the guests were treated to chicken or steak dinners (I love Lesner Inn's catering, by the way)! As the guests were eating their dinner, I got a chance to chat with DJ Shawn Cox for a little bit. We tried to predict how the night would progress. Would the guests party like it's 1999 or just wait for the slow songs? I think we were both VERY happy to see that this crowd LOVED to dance, and they partied all the way to the end of the night. In fact, on one of the last songs I could feel the entire floor shaking from how many people were still going strong. Someone broke out the glow sticks and they just seemed to multiply. Everybody was wearing them, linking them together, and just having fun. They even managed to start a limbo with a chain of glow sticks – not sure I've ever witnessed that at a wedding before, but there's a first for everything (Glow sticks? Yes. Limbo with glow-stick chain? No.)
So needless to say, I thoroughly enjoyed myself at this Lesner Inn wedding. Lauren & Peter are an amazing couple surrounded by amazing friends and family.
Congratulations Lauren & Peter – thank you for letting me be a part of your wedding day!
P.S. – Aren't they a gorgeous couple? Lauren looked so elegant in her wedding gown, and Peter was rather dashing in his suit.
---
---
If you enjoyed Lauren & Peter's Lesner Inn Wedding pictures, please leave a comment below or share this post on social media!
SEO: Lesner Inn Wedding