Chrylser Museum Wedding – Heather & Kevin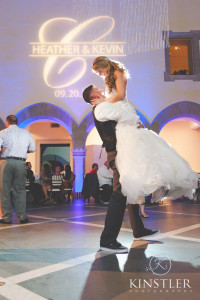 I've been a blessed photographer to have been able to work with such an awesome couple like Heather & Kevin. Not only are they a gorgeous couple to photograph, but they're down-to-earth people who love life and everything it has to offer.
I first met them at their engagement session earlier this year. They brought along their dogs and we captured some great moments together. Then Heather wanted to get some bridal portraits before the wedding, which were so stunning that even I was impressed by the final images – I've included a few of my favorites at the beginning of the gallery below.
The wedding itself was one to remember, planned by the amazing Barbara Anderson from Style Events, and executed to perfection by the rest of her team on the day of the wedding. During the first part of the day, I got to hang out with Heather's bridesmaids and "bridesman", Dave. I can see why Heather asked them to be a part of her wedding – they're all fun-loving people, so I just had to include their crazy-face shot in the gallery. They took their "normal" picture, but this group is just too fun to not show their fun side.
After hanging out with them, I met Kevin and his guys over at the Chrysler as they got ready. Things were a bit more serious as the time for the wedding derw near, but Heather and Kevin each decided to exchange gifts for each other before the wedding. He bought her diamond earrings and made a keepsake wall collage with a picture from their first date and one from their engagement session. She got him his favorite drink and a special album of pictures… for his eyes only. You could tell they each put their love and attention into their gifts, which showed on their faces as they poured over them.
As for the venue, the Chrysler Museum has an enormous indoor courtyard with high ceilings and vast columns. The only way to make the beauty of this location come to life was to bring in the amazing talent of Stage Right Lighting, who was not to be outdone by the Chrysler's works of art. You see, for the first time ever, they got permission to hang a chandelier in the courtyard, strung on wires from across the balconies. But this was no ordinary feat because both the ceremony and the reception were held in the courtyard, which meant that the engineers at Stage Right Lighting had to work fast to transform the courtyard into a majestic ballroom, complete with an impressive chandelier. I don't know how they did it, but the Style Event coordinators and Stage Right Lighting engineers pulled it off in record time!
Congratulations Heather & Kevin, and thank you for letting me capture your perfect wedding! It was truly remarkable in every way!
---
---
I want to say a special thank you to Chelsea LeVere, my second photographer for this wedding.
If you enjoyed Heather & Kevin's Chrysler Museum Wedding pictures, please leave a comment below or share this post on social media!
SEO: Chrysler Museum Wedding