Lesner Inn Wedding Photography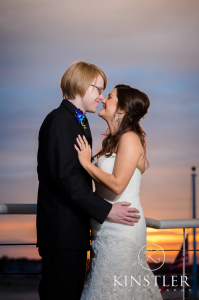 Vanessa and Eric were married on September 14, 2014 at the Lesner Inn in Virginia Beach, VA. They had an outdoor ceremony
…on the balcony
…overlooking the water
…at sunset!
Yes, it was magic and beautiful – everything you would hope for in a Lesner Inn wedding. I had a wedding there several years ago when it rained the whole time; but I got some sweet props from Lesner Inn on their blog for how to handle a rainy day – but that's another story. This is about Eric and Vanessa.
They met in college from what I understand to be a rather impromptu eavesdrop from Vanessa. She was walking by Eric's room one day and spied a Sephiroth poster (I'm not even going to pretend to know what that is), to which Eric was happily surprised that he'd found someone with similar interests. Actually, you can just watch this video on YouTube that they made to tell their story – LOL! I think it's based on Final Fantasy, but seeing as how I'm not much into RPG games, I'm going to let the true nerds make their own assessments in the comments below.
Why do I tell you this? Well, I first worked with Eric and Vanessa for their pre-wedding bridal portraits. They had a first look and spent a couple of hours with me at Regent University taking some awesome wedding portraits. But I didn't know about their love for these things until AFTER we became friends on Facebook. I kept asking Eric if he wanted to keep his hair in his eyes or if it didn't bother him. He said he didn't care, so I was like, "Whatever dude." So we connect on Facebook and boom! I see all his awesome cosplay shots as Dante (a character whom I'm not going to pretend I know anything about, but Eric totally looks like him). #nailedit
So the moral of the story is, if you want your photographer to stalk get to know you better, find him or her on InstaTwitFace+ and say hello. I find that when you get to know each other before the wedding it makes for a better experience overall on the wedding day. #justsayin
So please enjoy these pictures from their big day. I had a lot of fun working with them and I'm sad that I don't get to take any more pictures of Eric and his cool hair.
---
---
If you enjoyed these Lesner Inn wedding pictures, please leave a comment or share this post on social media!
SEO:
Lesner Inn Wedding