Engagement Portraits on the Beach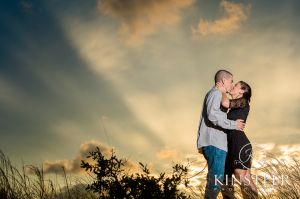 These engagement portraits from Kristin and John's session at First Landing State Park are some of my favorite images captured this year. We weren't sure if the weather was going to cooperate with us because it was cloudy all day with the threat of rain looming over us. But rescheduling seemed to be out of the picture so we just decided to go for it and hope for the best.
I was floored at the amazing light we got during our session. Just look at those sun rays!
The downside to working on such a gloomy day was that it was so friggin' cold! But that didn't keep Kristin from wearing her cute little baby doll dresses on the beach. It was something like 60 degrees outside and she was literally shivering the whole time – bless her heart. But her determination paid off in a big way and these portraits are the proof.
Just before we left the park, the sunset made the clouds turn black and red – I hadn't seen anything like it at First Landing State Park before. So I setup my flash again and asked them to pose for me one more time on the bench. The last picture is truly what the sky looked like that evening and it's one of my favorite sunset pictures!
---
---
If you enjoyed these engagement portraits, please leave a comment or share this post on social media!
SEO: Engagement Portraits