Virginia Beach Wedding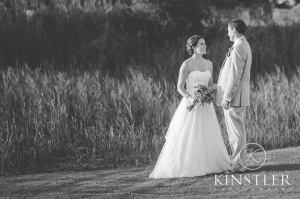 Erin & Dan were married in Virginia Beach on September 27, 2014. It was a beautiful, SUNNY day. Yeah, that's right – it was sunny with a capital, "Can I get an Amen!?" You see, the church where they had their ceremony had a big stained glass, circled window at the front of the altar. It's really high with a cross in front of it and it's meant to let in lots of light into the sanctuary. But what no one knew was that, on September 27 at 5:00 PM, the sunlight comes directly into that window, right down the middle aisle. This makes it nearly impossible to capture images from that vantage point without getting some type of sun flare. Don't get me wrong, I love me some sun flare – but only when I can use it to my advantage and get creative with it; not in the middle of a wedding ceremony. But thankfully Erin and Dan hired a trained professional photographer and I just used my 70-200 lens to work around the direct sunlight.
Then there was their reception, which was at the Baja restaurant in Sandbridge. I go to Sandbridge all the time for beach family portraits, but believe it or not I never once went to the Baja until this wedding. It's a quaint little place on Back Bay where there's a beautiful view of the sunset. Erin and Dan took a few minutes to work with me on the private dock, which is owned by Baja, so that we could create a few more romantic images of them before the party started.
And what a party it was!
Everyone had a great time, the DJ was pumpin' some great tunes, and all hell broke loose when he played… "Brown Eyed Girl"? For liability concerns, I'm not allowed to divulge the rest of the story or show the pictures, but let's just say that Dan and his buddies know how to have fun! I thoroughly enjoyed working with Erin and Dan to create these memories for them. Their Virginia Beach wedding was one of a kind and I'm happy that I got to be a part of it!
---
---
If you enjoyed this Virginia Beach wedding, please leave a comment or share this post on social media!
SEO: Virginia Beach Wedding