Founders Inn Wedding Photography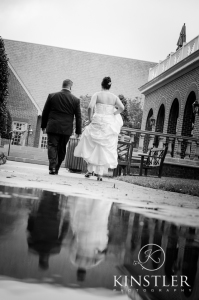 Janet and Michael were married on September 13, 2014 at the Founders Inn in Virginia Beach, VA. It was one of those "iffy" forecasts – maybe it will rain, maybe it won't. The skies were very gray and most of us thought it would just be an overcast day. Well sure enough, just as the procession was about to begin – we're talkin', guests-are-seated-and-the-wedding-party-is-lined-up ready to begin – it starts to rain. You know, the kind of rain that starts with really big drops?! So the Founders Inn Wedding event staff motioned for everyone to come inside as quickly as possible and we all made a mad dash for the doors. Not two minutes later and the sky just opened up!
It was rather impressive to watch the event planners go into action, calling "all hands on deck" to setup the Fireplace Room for the wedding. In about 15 minutes, they cleared out the furniture, setup the chairs, and even pulled out the decorative room dividers to give privacy to the wedding, so kudos to the Founders Inn team!
But all that aside, Janet was a stunning bride who took the day in stride (I'm a poet and didn't know it). Michael was just as calm, cool, and collected about the day. After the ceremony and formal pictures were done, the rain passed and we were able to go outside into the beautiful gardens and take some lovely pictures. Michael even helped hold the dress for a couple of pictures! My favorite image was captured on a whim when I put my 70-200 lens on the ground next to a puddle and captured Janet and Michael's reflection as they were walking through the gardens.
I truly enjoyed working with this couple and I wish them many years of happiness and harmony!
---
Officiant:
Pastor Ron Jones Sr
Event Planner/Coordinator:
Margaret Kammer
Catering:
The Founders Inn
Cake:
Chelle Cakes
DJ:
James Best
SEO:
Founders Inn Wedding
---
---
If you enjoyed these Founders Inn Wedding pictures, please leave a comment or share this post on social media!