Wedding Photography in Hampton, VA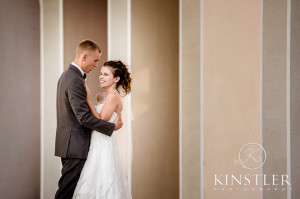 Kaitlyn & Colby were married on June 14, 2014 at Warwick Assembly of God in Hampton, VA and their reception was at the Warwick Yacht and Country Club. When Kaitlyn arrived at the church, I asked if I could take some pictures of her dress… outside… hanging in a tree. To which she gladly obliged and even helped to carry it with me. I had her swing it in from the left and I love the shot we got with the dress – it looks like it's blowing in the wind! And once she put the dress on, she became a stunning bride, full of youth and beauty. She looked quite glamorous with her hair and makeup done, and once she got her veil on we went back outside to take some more pictures with her beautiful bridesmaids, Miranda & Stacy. I'm so glad we didn't have to rush through the pre-ceremony pictures and I love the moments we captured during this time!
Colby was also looking quite handsome as the groom. We didn't get to spend as much time with him, mostly because he was locked in the back room, which was really small and gloomy. But I broke him free for a little bit and we managed to get some nice pictures of him with his guys outside the church, too.
My favorite part of the day was after the formal pictures as we headed to the reception. I had asked them if it would be possible to stop at the Ferguson Center for the Arts since we would be driving right past it. We weren't too sure about how much time we'd have once we got there, but I'm so glad they made the effort anyway. We drove right up to the front of the Center, waited for the crowds to spread out since there was a performance going on that evening, and just started shooting some cute moments between the two of them. I think we were underneath the arches for less than 5 minutes, but that's all the time I needed to get those fantastic portraits.
I really enjoyed capturing the wedding photography in Hampton for Kaitlyn & Colby. Please enjoy some of these favorite images created on that beautiful day!