Family Portraits in Virginia Beach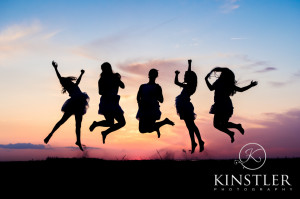 I first spoke with Nikki about 5 days before her session. She told me that she was going to come down from Ohio to surprise her oldest daughter before she left to move down to Tampa, FL. So she wanted to do something even more special to document this time in her family's life, especially since it had been several years since she last updated her family portraits. Also, her oldest daughter is engaged so we included her fiancé in a few of the pictures as well.
She has FIVE beautiful daughters and she had already planned to dress them in little white dresses for their portraits on the beach. If you know anything about me and my style of photography, I love photographing little white dresses on the beach – there's just something timeless and classy about that look for portraits. So with FIVE girls, I knew this portrait session would be a lot of fun.
Nikki's family did a great job working with me and we had gorgeous weather to work with, too! The sunset on the water created the perfect backdrop for the last moments of our session. I've included some of my favorite images as well as their slideshow (which has a little surprise in the middle of it, so be sure to watch)!
Do you need family portraits in Virginia Beach? Please be sure to contact me today to check my availability and learn more about your portrait session with Kinstler Photography.
---