Williamsburg Winery Wedding Photography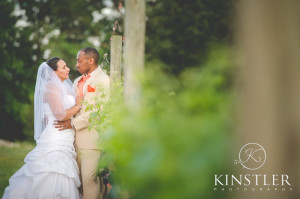 This was my first Williamsburg Winery wedding and I sure hope it's not my last! LaTonya and CJ were married on May 12, 2014 in the vineyards of the Williamsburg Winery… at sunset. Yes, it was as romantic as it sounds and they were surrounded by all their family and closest of friends.
My absolute favorite part of the day was shooting down in the wine cellar with LaTonya and CJ. I love contrasting the bride against a dark and moody background with lots of texture. We didn't have much time, so I went right to work photographing LaTonya. It's funny because I was so ready to begin working down in the cellar (where I've never even been before) that CJ said something like, "Wow! You just came up with that shot out of nowhere! How did you do that?" I just told him it was instinct. When I see a location with the right mix of texture, dimension, and mood I just look for the light or add my own (in this case, I used both the available light and my off-camera flash gelled to match the tungsten light). The results are stunning, if I must say so myself.
I'm so grateful that LaTonya and CJ took the time out of their day to help me create these beautiful moments. I tell all of my couples that if they want something a little more special than photojournalism then it's important to make the time throughout the day to create fine art portraits like this. For LaTonya and CJ, that meant they had to miss part of their reception for about 15 minutes, but it made all the difference to their wedding photography.
If you need a wedding photographer please be sure to check my availability and setup an appointment where we can discuss the details of your day. Be sure to visit the info page here on my website to learn more about my style, products, and pricing information.
---
Catering:
The Catering Company of Williamsburg
Cake:
The Trellis
DJ/Band:
DJ Soul
SEO Label:
Williamsburg Winery Wedding
---