Family Beach Portraits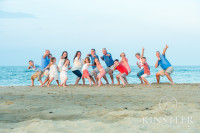 Jon first contacted me for his family beach portraits a few months before coming to Virginia Beach, VA for his family vacation. Like many of my portrait sessions in Sandbridge, there were several different family groups who each needed their own separate family picture as well as the big group picture. This is very common and I've become pretty good at handling the big groups like this. Jon and his family were wonderful to work with and I really enjoyed capturing these memories for them. I think my favorite picture from the session is the group hug that I took of the girls. You can tell by these pictures that this family has a lot of love for each other, and I'm thankful that I was able to be a part of their group, if only for a couple of hours.
One more thing that made this family one of the most unique sessions ever: The Squat Pose! Yes, that's right – Mr. Dan Bahry himself was a part of this group. He's a BeachBody Coach from Uniontown, OH dedicated to helping people enrich their lives through physical fitness. From what I hear, he's a pro at the P90X workout routines, and I don't think he missed a beat while on vacation with his family, managing several workouts a day at their vacation residence in Sandbridge.
So what is the squat pose all about? You see, Dan built a collection of pictures taken with himself and other instructors (or the various people that he came into contact with) and tagged them on Facebook with #danbahrysquatpose on his journey to the BeachBody Summit 2014 in Las Vegas. He even asked me to do the Squat Pose with him, but I don't have the picture to prove it (but it was really dark outside, so it might not have turned out). He's a great guy with a positive attitude, so if you're looking for a personal trainer, be sure to check out Dan's website at http://www.BeachbodyCoach.com/DanBahry
---