Eastern Shore Wedding Photography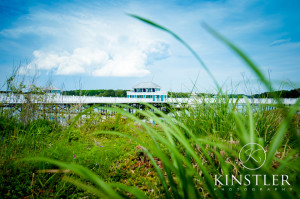 Caitlin & Jeff were married on May 10, 2014 at the Kings Creek Marina in Cape Charles, VA on the Eastern Shore! It's such a beautiful location for a wedding and I highly recommend it to anyone who's looking for some peace and solitude at their wedding venue. They were going to have an outdoor wedding facing the water near sunset, but unfortunately it was moved under the shelter area because of the rain. But Caitlin and Jeff took everything in stride and were still the joyful couple that everyone knows them to be.
Their ceremony was beautiful and we even managed to dodge the rain for a few minutes to take some pictures along the docks. They were a little hesitant about going out on the docks with the surface being so wet, but I told Caitlin to carry her dress over her arm while she walked hand in hand with Jeff. I remember telling Jeff that the rain is a blessing in disguise and that they would have pictures on the dock that no one else would have from Kings Creek Marina because of the reflections created by the rain. I'm so glad we took the time and I'm thrilled with the reflections I captured, too! Be sure to look for them below!
The reception was a lot of fun thanks to Roger from Astro DJs! He kept the party going and Jeff danced the night away with Caitlin and all their friends. The toasts by his best man and her maids of honor were touching and they were even nice to each when cutting the cake – which is the right thing to do, guys! I had a great time at their wedding and I hope to return to the Eastern Shore for many more weddings to come!
Which pictures are your favorites in this Eastern Shore wedding?
---
Officiant:
Donna Irwin
Event Planner/Coordinator:
Tiffany Mohr
Florist:
Fairfield Flowers
Catering:
Aqua Restaurant
, Kings Creek Marina
Cake:
Alice Reed
DJ:
Astro Entertainment
SEO Label:
Eastern Shore Wedding Photography
---